|c h a r a c t e r s| |s u m m a r i e s| |p u b l i c a t i o n s| |l i n k s|
The following is all the publication information currently available for the series. Updates will be made as covers/tankoubans are released.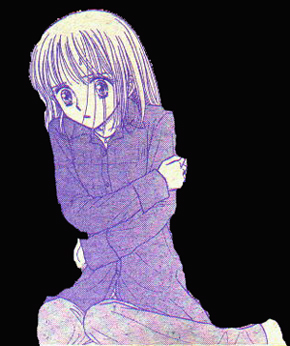 Debut:
'Partner' is serialized monthly in Ribon, one of the most popular monthly shoujo mangas in Japan. The author of 'Partner', Miho Obana, had ended her long-running and VERY popular "Kodomo no Omocha" series in 1998, and had since released a one-shot short story, "Pochi", and a Kodocha side-story manga, "Mizu no Yukata". Obana jumped back into the monthly serialization groove with a story that was an extreme change of pace compared to Kodocha; the sci-fi horror story "Partner" debuted in the September 1999 (9/99) issue of Ribon. Each Ribon issue since then has continued the Partner storyline, and There have now been ten chapters to date.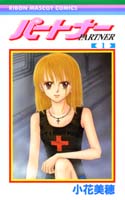 Tankoubans:
The first condensed, compilation of the Partner manga (containing chapters 1-6 or so) was released recently on 4/19/2000. The ISBN # is 4-08-856200-3. The second tankouban will most likely be released in the early fall/2000. Tankouban cover scans will be added as they are released; pictured right is tankouban #1.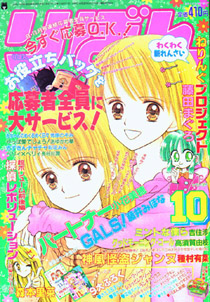 Covers:
So far, 'Partner' has only appeared on one Ribon cover, for the October 1999 (10/99) issue pictured at left. A small picture of Nae was also featured in a collage on the cover of the Ribon Winter Special. Hopefully the series will be granted another cover shortly (KKJ has at least 6 a year, sheesh!).
Specials: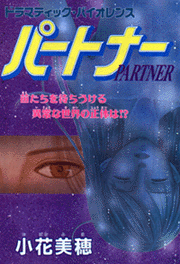 In the yearly "Winter Vacation/Special" issue of Ribon, released at the very end of 1999, a very short (about 6 pages) Partner omake one-shot story was featured. The story didn't contain much of a plot, but featured all the Partner characters, Nae, Moe, Ken, and Takeshi, drawn as kittens (with cat-names, too, such as "Take-nyan" for Takeshi, Nyan as in 'meow'). It's a short, irrelevant, but absolutely adorable strip that's certainly a welcome change from the somber mood of the real Partner storyline. Also, make note, a guest 'kitty' appears in the strip-Miho Obana, the mangaka herself!
*Note: scans from the winter one-shot will be posted soon. The picture to the right is NOT from the Winter Special!